If you know me, you know that I'm convinced that music enhances every training experience from trail running to road riding.
Yes, I know that I'm not an outdoor "purist" when I'm covering up the sounds of chirping birds and the wind whistling through the trees. But believe me, my heart flutters when I'm kicking ass up the side of a mountain to the tunes of … well, that's another story.
Also, I'm aware that wearing headphones can be dangerous. Maybe I won't hear the car approaching on my left and the driver decides to cut it too close, like the other day when I was nearly clipped on a curvy mountain road. Maybe I'm missing a slithering snake in the grass. I'm sure there's been plenty of those suckers hiding on the trails lately. I'd prefer it to stay that way.
Given that I don't plan to give up working out with music any time soon, I'm always looking for wireless headpieces that prioritize safety yet are still comfortable enough to wear for long endurance sessions.
And I've found that combination in products from AfterShokz, a company that's pushing the boundaries in bone-conduction technology. After a year or more of testing the original AfterShokz Trekz Air open-ear headphones, I was already a convert. So I was anxious to meet AfterShokz's next-generation earphones: the Aeropex. Here's my take:
Testing grounds: AfterShokz Aeropex
I've used these bendy wireless headphones a lot. They sit over the ear and conduct sound through the tiny bones behind your earlobes while freeing up the outer canal to stay aware of your surroundings. I've mostly tested the silky silicone earphones while running and biking, both on the road and trails. But I also use them in the car.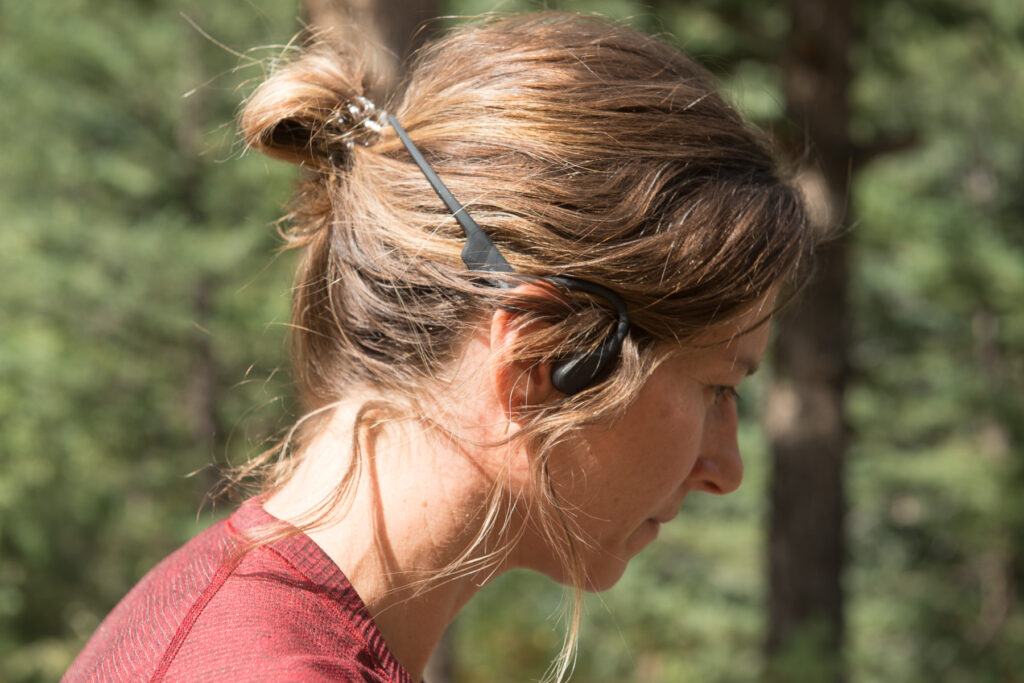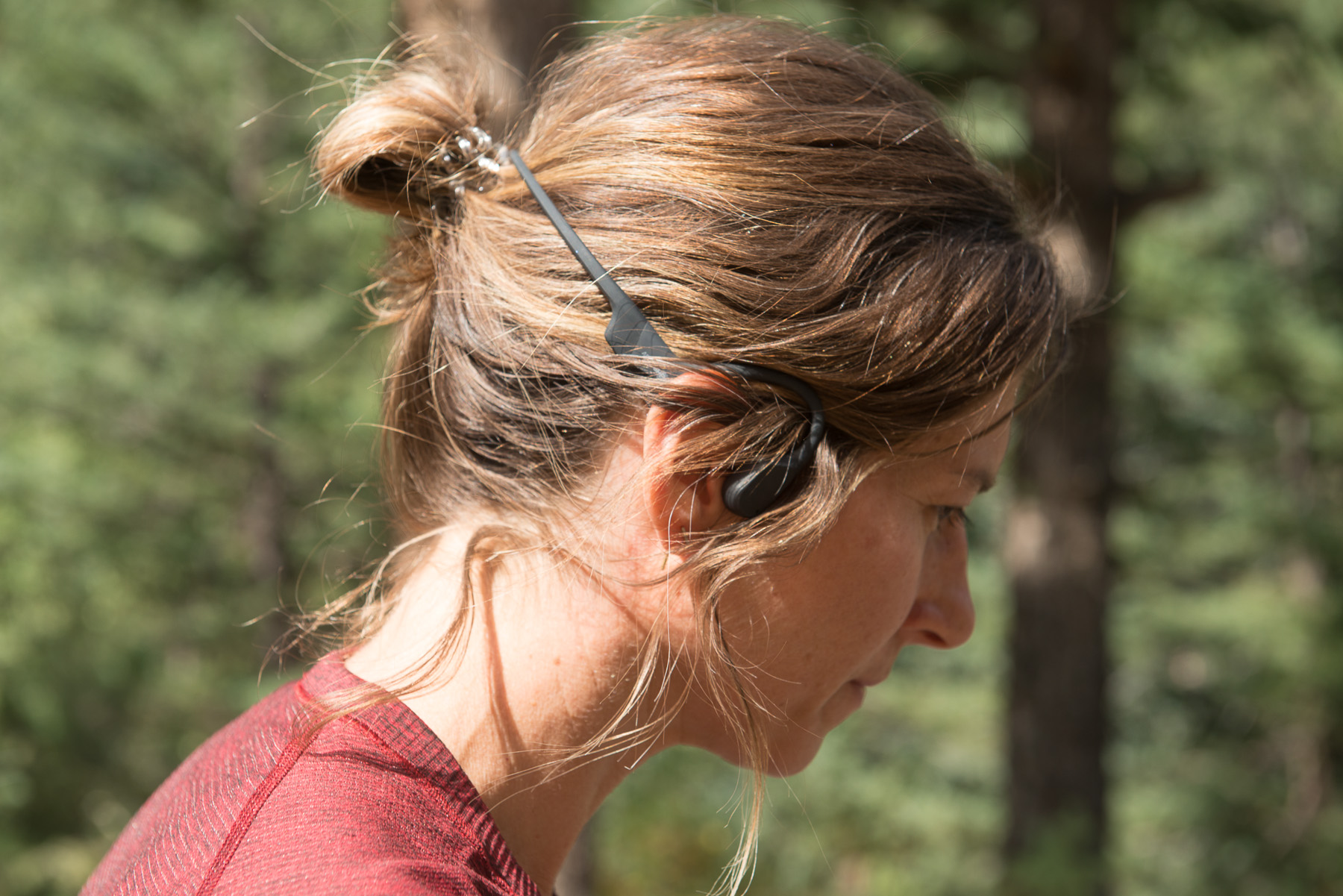 I've experimented with multiple setups, depending on what I have on my head for a particular sport. When trail running, I wear my hair in a ponytail. So rather than allowing the head strap to flop a bit against my neck, I've been tucking it over my plastic hairband for a more snug fit. That works great. When I wear a stretchy, breathable hat for running, the sleek profile of the Aeropex fits well under the rear band of the hat as well.
When biking, I wear the same helmet for both mountain biking and road riding. In this case, I've figured out how to thread the Aeropex unit through the rear of the helmet shell. I further secure the device's over-the-ear pods with the helmet straps.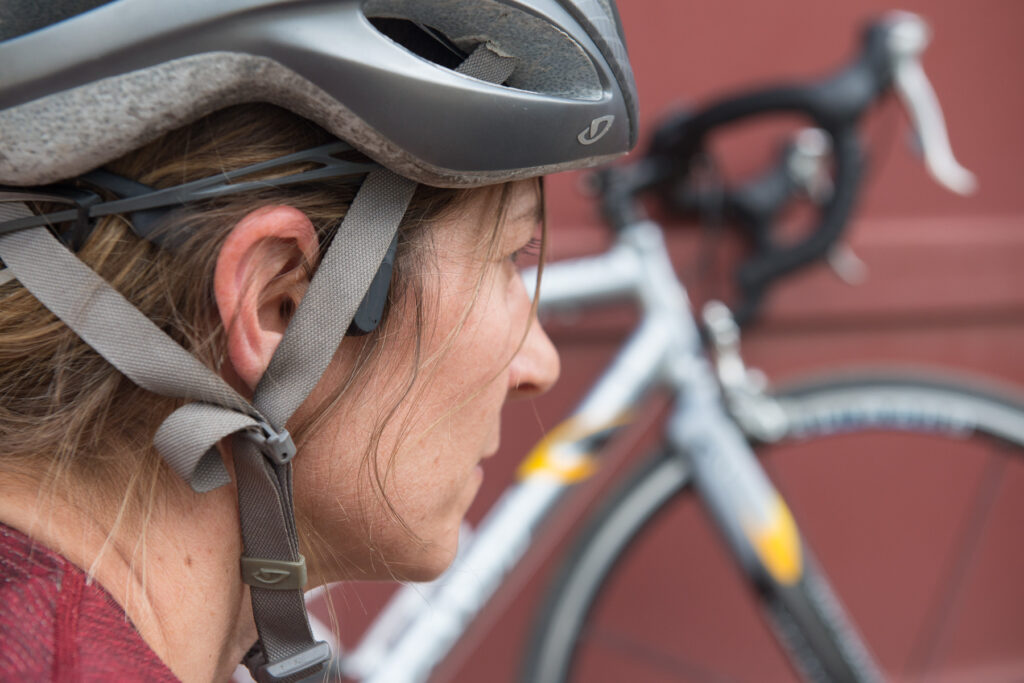 This active-lifestyle Bluetooth headphones' standout features are safety, comfort, and portability, in that order for me. The open-ear design means that the ergo-angled, bone-conducting sound module rides in front of the ear and the settings adjustment module sits behind the earlobe on the right side. In the AfterShokz Aeropex, both of these elements are smaller and lighter than the previous model, and have caused no "ear fatigue," or aching, a big concern of mine when wearing earbuds while moving excessively over long periods of time.
In addition to the proper angle on the high cheekbone and ear cavity, the weight of these headphones is also a critical comfort factor. The new Aeropex model is just 26 grams. So it's safe to say that Aftershokz has achieved a lighter earpiece without sacrificing fit, sound or performance.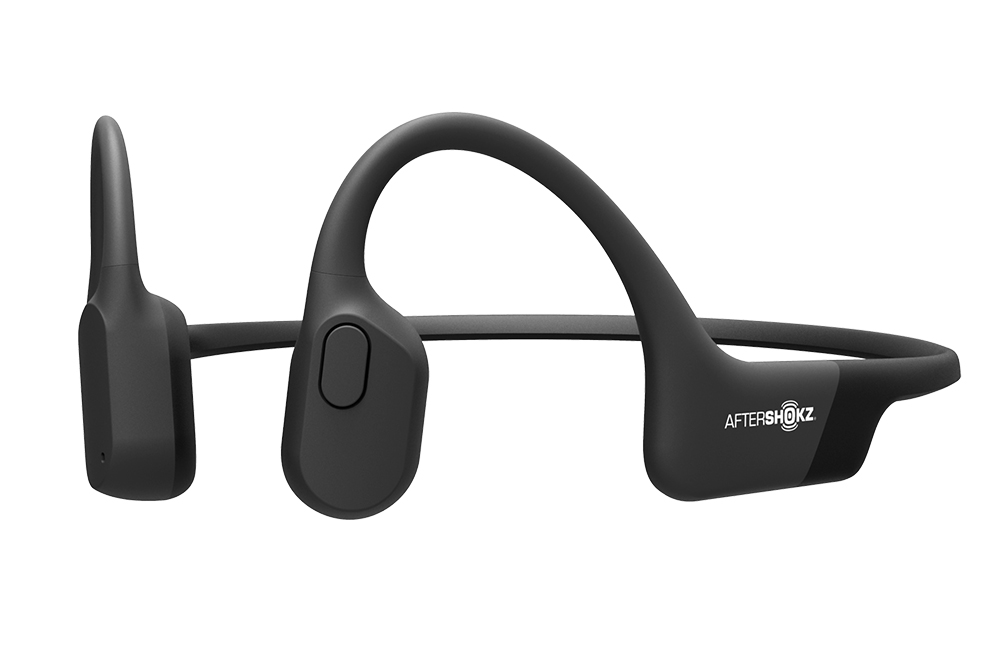 Sound is surprisingly clear when conducted through the bones, even when competing with outside sounds available with the open-ear design. I don't understand all the audio advancements in the Aeropex, but the brand explains that "PremiumPitch 2.0+" delivers deeper base with less overall vibration and half as much "sound leakage."
Likewise, "light" didn't translate to "cheap" when it came to performance. The headphones synced seamlessly with my iPhone 8, reconnected quickly at the trailhead and didn't drop Spotify unless Spotify dropped it. Plus, a handy hardshell carrying case meant I couldn't crush these in my car door, where my Aeropex headphones generally live.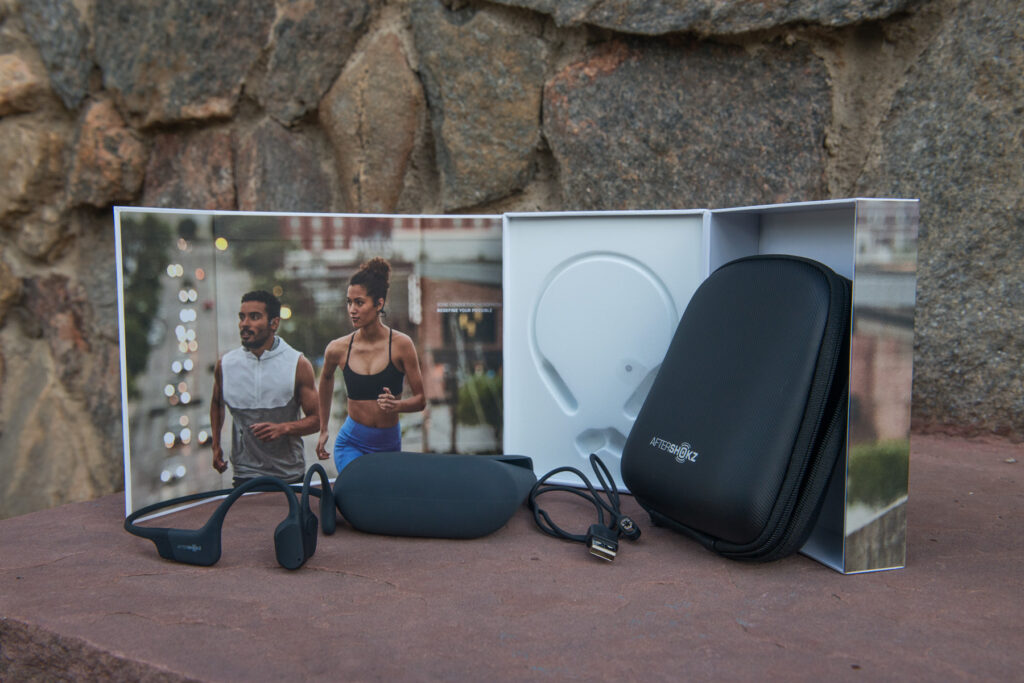 A waterproof, magnetic charging port, sans that tiny rubber flap that always breaks off, connected seamlessly in my car. So I never had to hear that annoying "charge me" reminder five minutes into a run. One full charge (an hour and a half) is touted to last 8 hours or about a week of exercise for me. But often I leveraged a quick 15-minute juice boost in my car on the way to my departure point, which was always enough recharge to get me through a workout.
Last key pro involves the car. Because I keep the Aeropex in the car door pocket in a protected case, I also use these headphones for taking hands-free calls and when traveling with others (i.e., listening to personal podcasts that my family isn't interested in). Having one unit that can do it all is convenient for my busy lifestyle.
My biggest hang-up with the unisex Aeropex is the back strapping. But before I get at that, let me be frank about the size of my head. For a human, it's tiny. My bike helmet is literally a child's small. So for me the "gap" between the base of my neck and the headphone's backstrap, which links the over-the-ear modules, feels a little too big. I would have appreciated a size adjustment feature here. But I certainly understand that such a moving part, or "breach," might impact the quality of both the sound and, for some, fit.
As I mentioned, I've gotten creative with lessening this back gap by perching the cord over a ponytail holder or under a stretchy running cap, as well as anchoring the ear modules further under bike helmet straps. In a gym, or during less dynamic activities than running or biking, I doubt this gap would bother me much at all.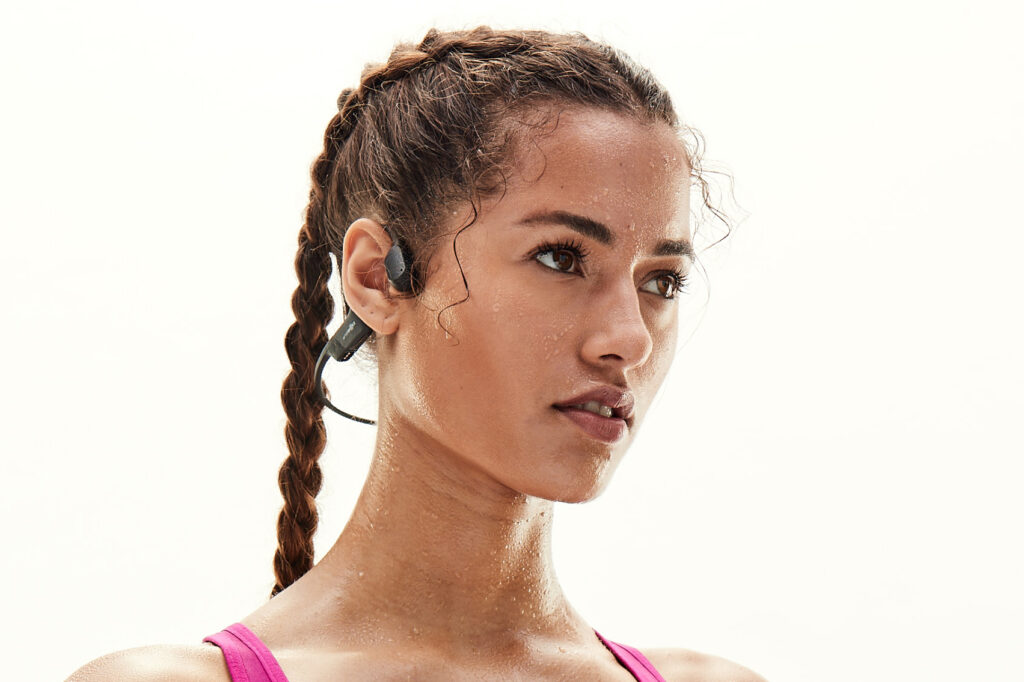 The sound and communication controls also take some getting used to. While the big button for pausing and skipping through music or answering a phone call is easy to find with your left hand, adjusting the volume is a little trickier. The raised plus and minus signs are there, but they're small and a bit like reading braille. My fingers are rather small, so I could imagine that others with larger hands might have a similarly difficult time locating, differentiating and manipulating these controls.
The Aeropex price point, at $160, is a little steep as well. But you can feel the quality of these headphones the first time you pick them up. Plus the latest AfterShokz headphones come with some nice assets — a smart charger and two different carrying cases. The headphones are also waterproof down to a meter for up to 30 minutes. This could be a game-changer for watersports enthusiasts or at least peace of mind worth paying for among other outdoor athletes.
Last word: AfterShokz Aeropex
If you are looking for a safer wireless headphone that works for both endurance pursuits and everyday communication, the Aeropex is a solid choice. The price point is backed up by the quality of the device, advanced comfort, safety and performance, and its all-around lifestyle uses.